---
Report on Career Support for High School Students with Immigrant Background: Issues Related to Status of Residence
 On September 4, glolab held a Webinar Study Session on Career Support for High School Students with Immigrant Background – Issues Related to Status of Residence.


Background of the Seminar
 In a survey conducted after the online seminar held in March, many people said, "There is no place to study specialized knowledge on career support for students with immigrant background. Many people commented that they would like to see a place where they can exchange information and study.
Outline
■ Date and time: Sunday, September 4, 13:30-16:15
■ Program:
 Part 1: Case study on career counseling for students with immigrant background
 Part 2: Introduction of glolab activities
■ Place: Webinar
■ Number of participants: about 50 *
■ Speaker: Yuki Maruyama, Attorney at Law, Tokyo Bar Association
Kaho Nishio, Counselor, glolab, a non-profit organization
*Participants came from all over Japan, including the Kansai, Chubu, Chugoku, and Kanto regions.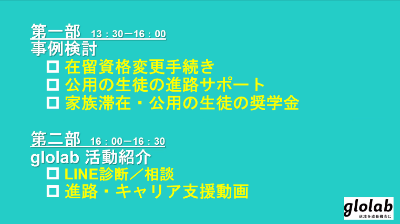 Report
  【Session Part 1】

In the first part of the session, we discussed on the following three cases that the participants had given us in advance, and discussed how to respond to the consultation.

 ・Procedures for changing the status of residence for students with family stay status who are seeking employment
 ・Career support for students with official status
 ・Issues in obtaining scholarships for family stay and official status students

For the past 10 years, high school students with family stay status have been unable to work even if they wanted to after graduating from high school because they are not allowed to work. Thanks to the efforts of supporters, the first notice was issued by the Immigration Bureau in 2015, and after two revisions, the February 2020 notice opened the door to employment after graduation for high school students with family stay and other status of residence. Currently, students with a status of residence such as Family Stay can change their status of residence to Resident or Specially Designated Activities and work if they meet the requirements of this notice. Attorney Maruyama gave us a detailed explanation of the notice and the procedure to change the status of residence to one that allows employment. Regarding working hours, which is one of the requirements for changing status of residence, the participants shared what they actually checked with the Immigration Bureau, and I realized that by exchanging information across regions, supporters can also gain new information and knowledge.

Next, Ms. Nishio talked about the attitude and approach to be taken when handling consultations. "In the post-session questionnaire, many participants said that they learned important points such as: "Do not speak with your subject or speculation about the law or regulations, but tell the fact straightly," "Respect the individual's choice," and "Do not impose the values of the counselor.

Next, we discussed a case in which a young person with an official status of residence who had graduated from high school with an undecided career path wanted to work part-time in order to save money for school, but was it true that he could not work part-time? The official status of residence is for people (other than diplomats and consular officers) working in foreign embassies, consulates, or official ambassadorial (consular) residences whose guardians work in embassies, and their families. In the Kanto area, there are many embassies, so you may encounter official students, but in other parts of Japan, this may have been an unfamiliar assignment. First of all, Attorney Maruyama explained about the status of residence for official use, such as "no resident card", and advised that although it is not legally prohibited to work part-time with permission to engage in activities other than those permitted by the status of residence, it is difficult in practice and it would be better to aim for a change of status of residence. Next, Ms. Nishio gave a talk on how to deal with consultation cases that glolab has actually dealt with. She said, "When I supported job seekers at Hello Work, they were refused registration because they didn't have resident registration. However, when I introduced them to the notice from the Immigration Bureau, they were able to register without any problem." This episode was very impressive. We think this is an example of how important it is for supporters to have knowledge.

Lastly, we discussed the issue of receiving scholarships for students whose status of residence is "dependent, official, etc.", which is often discussed. Some scholarships offered by the Japan Student Services Organization (JASSO) are not available to students with " dependent, official, etc." status, and some scholarships offered by local governments are excluded from eligibility depending on the local government. However, it is important to collect information patiently because it does not mean that there is no possibility of receiving scholarships. On the other hand, there is a huge amount of information about scholarships and it is not available in many languages, so it is important for supporters to be close to students and accompany them. Depending on the status of residence, there may be many barriers to choosing a career, and some students may give up halfway. It is important for us as supporters to keep encouraging them not to give up.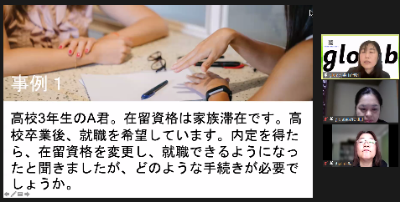 【Session Part 2】

In the second part, Representative Director Ms. Shibayama gave an overview of the comprehensive support provided by glolab, and coordinators Pham and Hitomi introduced the career and career support videos, including its aims and practical examples of classes using the video. We are going to hold an online seminar to introduce how to use those movies in career support of high school students with Immigrant background. Please check the event page.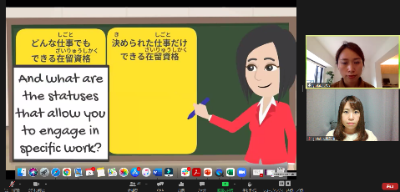 The Ministry of Education, Culture, Sports, Science and Technology (MEXT) has listed comprehensive support for high school students as one of the items to be implemented under the "Detailed Support Project for Returnee and Foreign Students". We would like to continue to listen to the requests of beneficiaries, the advice of experts, and the voices of stakeholders, and work to build a comprehensive support platform for young people with immigrant background.
Presentation material


Report author: Chiho Shibayama