---
glolab's collaboration with Sumitomo Corporation's Social Contribution Program "100SEED"
Report on the collaboration with 100SEED
glolab, a non-profit organization, is awarded and supported by the Japan Center for International Exchange (JCIE) for "Future creation for Youth with immigrant background: Building a Social Infrastructure for the Social Inclusion of Children and Youth with immigrant background" program. In October 2020, Sumitomo Corporation participated in this program as a part of "100SEED" employee-participation program for social contribution activities.
100SEED is an employee-participating global social contribution program launched by Sumitomo Corporation on its 100th anniversary. The program is a medium- to long-term initiative to solve social issues in each region through dialogue and active participation by Sumitomo Corporation Group employees around the world under the common theme of SDG Goal 4, "Quality Education for All.
Three members of Sumitomo Corporation's pro-vono team joined glolab project since October 2020, and six members joined glolab project in April 2021. They will be supporting the planning and promotion of glolab career support program for youth with foreign roots, public relations and general affairs.
◆Attendees of Kick-off meeting between Sumitomo Corporation and glolab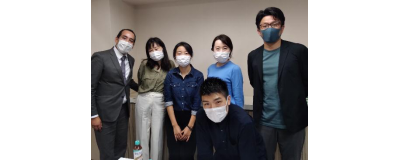 ◆Comments from Sumitomo Corporation pro bono team members

The members, who had no prior contact with each other, have joined together as a pro bono team based on their own motivations to support the activities of glolab. We all have different backgrounds, responsibilities, and areas of expertise, but we will continue to work together with glolab with the driving force and problem-solving ability that comes from our diversity, and most importantly, with the passion to take even one step forward toward solving social issues.

Through the collaboration with Sumitomo Corporation, we hope to contribute to realize Goal 4 of the SDGs, "Quality Education for All," by increasing public awareness of the issues youth with foreign roots are facing and the importance of career and employment support, as well as by strengthening glolab's organizational foundation and improving our service quality.


【Related Links】

▶ Partnership between JCIE and Sumitomo Corporation (JCIE news release)【Japanese Only】

▶ Sumitomo Corporation to Launch Full-Scale Social Contribution Program "100SEED" in Japan【Japanese Only】