---
Mirai(Future) Challenge Program
"where to go & what to be"
〜Career Development Program for Young People with Immigrant Background
Call for Participants (Looking for participants at the Tokyo venue and online participants at the same time)
The society you live in is wider than you think. The possibilities are infinite because we live in an uncertain world where we do not know what will happen. What you need is the courage to take the first step.

The Mirai Challenge Program provides young people between the ages of 15 and 20 with immigrant background the opportunity to broaden their horizons, think about their career paths, and take on new challenges.
Message from the Project Coordinator
 Project Coordinators: Li Shu
I came to Japan in the summer when I was 12 years old. My father had come to Japan for work two years before, and my mother went to Japan a year later, so I lived in China with my grandparents for a little over a year.

I had planned to return to China after a two-week summer vacation, but one day on my way home from the supermarket, my father said to me, "Why don't we live in Japan as a family? Let's live in Japan as a family. Let's go to school in Japan.

At the age of 12, I couldn't even read hiragana and could barely remember the three-minute walk from my house to the nearest station in two weeks. I was so confused that I couldn't say "yes" or "no". My father waited for me to make the choice, and after much deliberation, I accepted the challenge of living abroad as a choice that would allow me to be with my family. After that, I made a number of choices and am still living in Japan today.

What is a "good choice" in life? Can I say that I have made good choices? And will I continue to make good choices in the future? I don't know. But I think the important thing is not to make good choices, but to "think hard and make choices.

Many children with immigrant background are living in "Japanese" environment because of their parents' choice. However, their choices are often limited or obscured by various barriers such as language, educational system, and social environment. The same is true for their career choices after high school, which is a major turning point in their lives.

Therefore, through this program, I would like to convey to high school students with immigrant background who are preparing to make their career choices, the possibilities of various options that lie beyond the barriers and the people who have created their own options despite the barriers. We also want to support them to face the barriers that stand in their way and make their own choices. That is why we created this program.

In glolab, there are adults who have been supporting children with immigrant background from various perspectives, as well as adults who are former or troubled immigrant background kids who have been able to overcome or not overcome the obstacles. In addition, in Urahoro, Hokkaido, there are adults who have overcome various obstacles and are trying to expand their work and living possibilities, as well as warm adults who are seriously concerned about the children who will lead the next generation.

So, please start with this program and take it one step further. Please feel free to worry. With us!
Programs
Three points that we value

 1. Local community
     Through collaboration with NPOs, companies, and high school students in Urahoro-cho, Tokachi-gun, Hokkaido, which is engaged in advanced career education, students will be able to observe a local community where the division of labor is less advanced than in urban areas and explore the jobs that make up society.

 2. Encounter with a variety of adults and friends
     By creating encounters with adults in Urahoro-cho, local high school students, and adult volunteers, participants can broaden their perspective on society and learn about various possibilities.
     The program also provides a place to make friends who think about the future together, and to consult with them when in need.

 3. Experience and Thinking
     Based on the information obtained through fieldwork and other "experiences," students will have the opportunity to discuss and present their ideas in groups.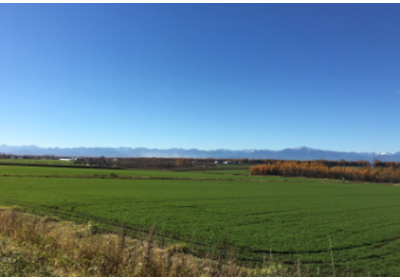 Curriculum
1. Pre-study Sunday, June 27th, in Tokyo (Held in Tokyo and online)
     ~How should I think about the future? ~ Workshop
     ・Workshop to learn how to think
     ・Explanation about the summer camp

2. Summer camp, July 31 (Sat.) – August 1 (Sun.) Held in Tokyo and online
      Online tour connecting with Urahoro-cho, Hokkaido, held in Tokyo  
     ~Let's learn about the various possibilities of work and life! ~The tour will be held in Tokyo ~
     ・Exchange with high school students and adults in Urahoro
     ・Online experience of new and interesting jobs in Urahoro
     ・Workshop to think about the future
       Think about yourself 10 years from now and what you can do now = My challenge

3. Post-event exchange – October and December (2 times in total) Held in Tokyo and online
     ・Challenge in Urahoro-cho
      -Think about what you want to experience/do in Urahoro-cho, and come up with your own plan for March.
      -Challenge ourselves to think about the reason and purpose of what we want to do, and how we can actually propose and ask the people of Urahoro-cho.
     ・Sharing the progress of "My challenge"

4. Post-event exchange – March: held in Urahoro-cho, Tokachi-gun, Hokkaido
     (The program may be changed depending on the situation of the spread of COVID-19)
     ・Actually try what we thought of.
     ・Workshop on "Trying to do the work" (tentative)
      We will receive a challenge from a company in Urahoromachi, and everyone will think of a solution to the challenge and present it.
      (e.g. Think about how to promote your business on social networking sites.)
     ・Interaction with people in Urahoromachi, walking around the town
Details
Number of applicants: 20 people
     *Can choose to participate at the venue in Tokyo or online from your home. For online participants, please prepare your own WIFI environment, tablet/PC, etc.
     *However, the third session will be held in Urahoro-cho, Tokachi-gun, Hokkaido, if the situation of the new corona infection improves.
Application deadline: June 20 (Sunday)
Details: Please check here
Participation fee 5,000 yen
Program Participation Application ▶https://bit.ly/3oETiAi

■Pre-conference briefing for participants will be held. (Online)
 Please register here: ▶https://bit.ly/3u5LhFX 

 【Date】
  Tuesday, June 1, 6:30 p.m.
  Saturday, June 5, 11:00 a.m.
  Saturday, June 5, 3:00 p.m.
  Thursday, June 10, 6:30 p.m.

Deadline Please register at least one day before each event. We will send you the ZOOM link before the day of the event.

Contact: contact@glolab.org‌ ‌
Organized by: glolab, a non-profit organization
In cooperation with:
     General Incorporated Association Tokachi Urahoro Rakusha
     NPO Urahoro Style Support
     Sumitomo Corporation ‌ ‌
Supported by: The Dentsu Scholarship Foundation