---
Lecture at English Exploration Class at Junten Junior and Senior High School
Non-profit organization glolab held a lecture at Junten Junior and Senior High School (Kita-ku, Tokyo) on the theme of "The Current Situation of Children and Youth with Immigrant Background Living in Japan" by Representative Director Chiho Shibayama and Coordinator Carlos Uemura.

Junten Junior and Senior High School is a designated Super Global High School (SGH) with a proven track record in research and development for the purpose of fostering global leaders who will be active internationally in the future. They regularly send their high school students abroad to develop human resources for the international community through a variety of programs including international understanding, languages, and internationalism. In addition, with an eye on Japan's rapid multiculturalization, students from Junten Junior and Senior High School have begun to support children with immigrant background.
Workshop Outline
 ■ Date: February 16, 2021
 ■ Class name: English Exploration Class
 ■ Speakers: glolab, a non-profit organization
        Representative Director: Chiho Shibayama
        Coordinator: Carlos Kamimura
 ■ Participants: Students of Junten Junior and Senior High School
 ■ Number of participants: 18
 ■ Lecture format: Face-to-face class
 ■ Aims:
   1. To learn that people with diverse cultural backgrounds receive school education in Japan and live in Japanese society
   2. To share awareness and insights about learning and living with people from diverse cultural backgrounds

First, we asked the students to think about what it means to be children with immigrant background. Then, we introduced the current situation and issues faced by children and young people of the same generation as the students, and the projects that glolab is working on to solve these issues.


Next, Carlos Uemura, a Peruvian-born coordinator, shared his real-life experience of coming to Japan in the second year of junior high school and struggling to get an education while not understanding Japanese. He talked about his experience of going to high school with financial difficulties and finding a job that he liked while working part-time. Today, he works for a travel agency specializing in travel to Central and South America, founded the NPO AMIGO PROJECT, and makes TV appearances to introduce Peru to the Japanese public, aiming to create a society where Japanese and Peruvians can become amigos (friends).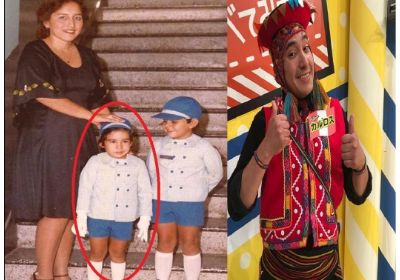 In the lecture, Carlos Uemura introduced Peru, where he was born and raised, while introducing the images that junior high and high school students have of Peru, such as Machu Picchu, alpacas, the Andes Mountains, and the Inca Empire.

He also talked about how the ancient Peruvians of the Inca Empire accepted the Spanish language and Christianity through the history of Spanish colonialism, and how Peru became a country where a wide variety of languages, cultures, and people mingled, including black Africans brought as slaves during the Spanish colonial period, Chinese after the elimination of slavery, and Japanese and Caucasians as immigrants.

Born and raised in Peru, Carlos Uemura's environment was also diverse, with Caucasians, blacks, and Nikkei, and it was "normal" to be in school with people from all ethnic backgrounds. He shared his experiences in Japan with junior and senior high school students, where he felt "different" from the norm, and shared his painful experiences as a "child with immigrant background " about learning and living with people from diverse cultural backgrounds.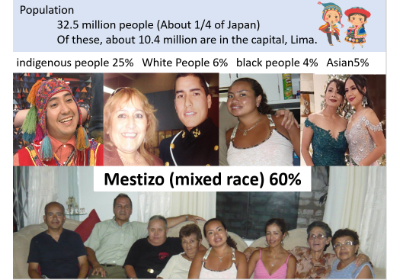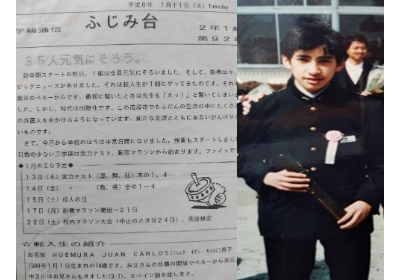 In the workshop, Carlos Uemura shared his experiences such as "Club activities are too strict! There is no one to talk to about my problems. Not only children with immigrant background, but also junior and senior high school students who participated in the workshop shared their feelings of wanting to avoid "being different", "special treatment", and "standing out". We also had a discussion on shared themes that were not related to "roots".

As you can see from the comments in the questionnaire after the lecture, the junior and senior high school students who participated had a high level of awareness of diversity and interest in international understanding, and we at glolab learned a lot from this lecture. We would like to express our gratitude again to Junten Junior and Senior High School for inviting us and to all the students who participated.
Comments from junior and senior high school students (excerpt)
"I would like to do something that can give them a little emotional support, such as teaching Japanese or just listening to the stories of people with immigrant background."

"I was impressed by the fact that it is very hard to discuss and understand just because the language is different."

"I learned that things in Japan that we always think of as normal are not normal from the outside."

"I felt that it was very difficult to get what I wanted to say and what I wanted to know due to the language barrier."

"Due to cultural differences, I felt that foreigners have a hard time in many situations because even if you act normally, you may stand out in other countries, and even if you don't mean to, you may be offended by it."

"I would like to work on gathering volunteers to work in Japanese language teaching and learning support classes."

"I learned a lot about the difficulties faced by people with immigrant background and how they feel about Japanese culture. I thought it was important to circulate information and create a comfortable environment for people with immigrant background to live."



Report: Chiho Shibayama / Carlos Uemura