---
Interpreter Staff Training Seminar for Counseling Young People with immigrant background
On February 1, 2021, glolab, a non-profit organization, launched the "LINE Consultation" service for young people with immigrant background. The consultation can be done either on line or in person, and the interpreter needs to have good interpreting skills as well as knowledge of the issues facing young people with immigrant background.
On January 22, 2021, a ZOOM-style training was held for glolab's registered interpreting staff to introduce situations where interpreters are needed in schools and to learn about the challenges high school students face. There were 11 participants, and the languages were English, Chinese, Spanish, Thai, Malay, and Tagalog.
This time, we discussed together, using theory and concrete examples, what kind of preparation, knowledge and manners interpreters need to have when interpreting for parent-teacher or student-teacher meetings and parent-teacher conferences at high schools. Students and their parents who come from countries with different languages, customs, and cultures tend to face language barriers first and are in a difficult position to access necessary information in their daily lives. In addition, they often experience gaps and confusion in school life, which can lead to misunderstandings and friction between teachers and other students. Interpreters will play an important role in the future as a bridge between teachers, students, and parents in order to facilitate communication and build a relationship of trust. The lecturer emphasized the need for interpreters to be "close to the hearts" of students and parents.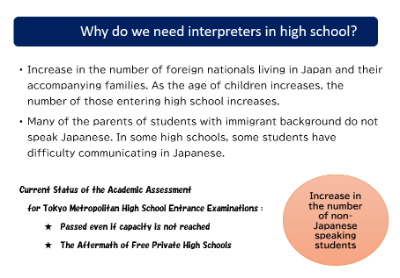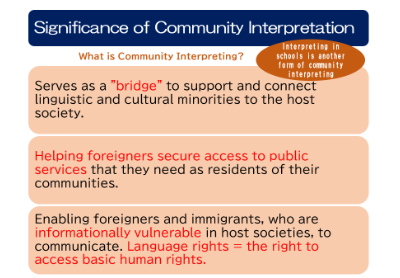 The participants asked various questions about how to deal with other specific cases. Although the session lasted only a little over an hour, we were able to have a valuable time to share our thoughts with each other. At present, we are able to provide services in six languages: English, Chinese, Spanish, Thai, Malay, and Tagalog, but we hope to expand our staff to include interpreters for other languages such as Nepali, Vietnamese, and Portuguese. We will provide a place where young people with immigrant background can feel free to consult with us in their native language, and we will support them so that they can choose their career path with peace of mind.

Report: Kaho Nishio