---
Participants Wanted:Mirai Challenge Program 2021 Activity Report Meeting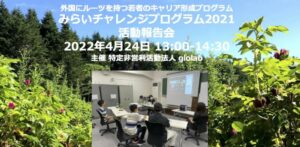 Mirai Challenge Program 2021 Activity debriefing session, now participants wanted.
In 2021, glolab launched the "Mirai Challenge Program," a program for young people aged 15 to 20 with immigrant background to develop the ability to broaden their horizons, think about the future, and take on new challenges.
This program, a new attempt at "youth with immigrant background x local community x career education," created a place to learn about diverse ways of life and values in cooperation with working people and organizations in Urahoro Town, Tokachi-gun, Hokkaido, which is pioneering in next-generation education.
In the first year, the program had to be conducted online amidst a corona outbreak, but the participating middle and high school students participated in the program in a positive manner and showed great growth.
We will hold a debriefing session of the "Mirai Challenge Program 2021" to let many people know what our thoughts are and what we valued in implementing this program!
Outline
■ Date & Time:  April 24, 2022, 13:00-14:30
■ Admission:   Free of charge
■ Time Schedule:
   13:00 opening of the meeting
   13:05 Current Situation and Challenges for Young People with immigrant background
   13:15 Overview of Mirai Challenge
   13:40 Report on "Mirai Challenge" Activities in FY2021
   14:00 Overview of the "Mirai Challenge" for FY2022
   14:15 Q&A
   14:30 ending of the meeting
※Program content and time are subject to change.
■ How to apply: http://ptix.at/f8gciB
We hope that many of you will join us.