---
Report on the Online Session Vol. 3 "Senpai's Experience"
Background
 glolab produces a variety of career support videos that can be used for high school students with foreign roots, their supporters, designs and implements the workshop programs which use these videos. From October to December 2021, we are holding monthly introductory sessions to make our videos widely known to supporters. The f third session, titled "Senpai's Experience" was held in December. Many supporters attended from all over Japan.
Outline
■ Date and time: Dec 12th, 2021 (Sun) 13:00~14:00
■ Purpose:
     Learn about the idea behind the production of the "Senpai's Experience" video series and how to utilize it
■ Program:
   1. What we do at glolab
   2. How to understand role models (Senpai)
   3. Our thoughts on video production and how we use them
■ Place: Zoom
■ Number of participants: 6
■ Presenter: Non-Profit Organization glolab
       Director: Uemura
       Coordinator: Pham
Report
In order to make it easier for young people with immigrant background to relate to them, glolab uses the term "sempai" instead of "role model.
I also explained that "sempai" in this context is not a perfect person, but rather a person who is living his or her own life, sometimes making mistakes and experiencing painful events.
In addition, we explained that the organization hopes that by providing young people with immigrant background the opportunity to get to know a variety of sempai, they will gain inspiration and hints for their future.
In the next part of the interview, Mr. Uemura, a board member, gave his thoughts on the production of the "Senpai's Experience" video series and how he uses it. The following is a summary of Uemura's answers.
Q. Self Introduction
For more information about Uemura's self-introduction, please refer to this report.
Q. How did you get involved with glolab?
Uemura: After I came to Japan, I was living with negative feelings toward Japanese society and feeling inferior, but one day someone told me that "the mirror does not smile first. " This is a phrase that had a great impact on me, and it means that if you move with an awareness of the impact you want to have on Japanese society, society will respond to your actions, rather than just asking society to do this or that. It was because of these words that I was able to start my own activities, and through meeting like-minded people, I became involved in the activities of glolab.
Also, through my involvement in glolab, I have learned that there are many children who feel the same way I do. Through glolab, I would like to convey the message to Japanese society and children that having immigrant background is an advantage.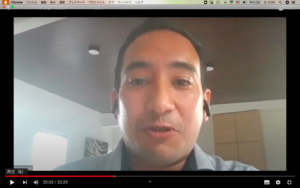 Q. What do you want to convey through Sempai's story?
Uemura: First, through the story of Senpai, I would like young people with immigrant background to know that they are not alone. Next, I would like to convey to them that it is okay to have diverse ways of life and choices.
Q. What are the advantages of watching Sempai's experience videos?
Uemura: The first benefit for young people with immigrant background and their supporters is that they can watch the videos whenever they want. The second is that they can learn about Sempai who are living diverse lives. Third, when the young people who watched the video are doing group work, they can freely share their opinions without any hesitation because the guests themselves are not present. Fourthly, we can eliminate the burden of having guests come to the school, which can be difficult for the implementer to arrange, coordinate, and in some cases, incur costs.
In addition, there are cases where it is difficult for some of the people who will serve as sentinels to go directly to schools and support sites to talk about their experiences due to hesitation, burden, time, or physical limitations. We believe that this is an effective tool to reduce the burden on those involved.
Q. How would you like Sempai's story to be used?
Uemura: Since it is easily available on YouTube, I think that young people and students with immigrant background can watch it whenever they want. Also, at schools, teachers and supporters can choose stories that they think are appropriate based on the situation of the students, and have the students watch and discuss them.
Pham: I would like to introduce a model workshop so that you can have a more concrete image of how it can be used in the support field.
In the model workshop, students are asked to watch episodes 1 to 5 of Uemura's story in advance, and then work on the homework worksheet based on the video, and then conduct the workshop on the day. For more details, please see the projected slides here.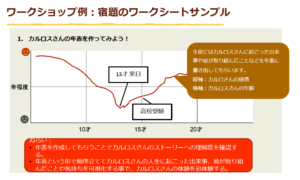 The participants commented, "It was very informative! And I was very impressed to meet Mr. Uemura. I learned a lot from his ideas on how to use video."
glolab will continue to produce and provide Sempai's videos as a reference for young people with immigrant background and their supporters. If you have any questions about how to use Sempai's videos in your workshops, please contact us here.
▶︎ Projected slides from the day
▶︎ List of glolab production videos
▶︎ YouTube : glolab channel (Please subscribe to our channel!)
Report by Pham and Uemura