---
Announcement of the launch of note
 From today, glolab will use the distribution site "note*" to provide teachers and supporters of high school students with immigrant background with information that will help them make decisions when guiding their students and supporting their lives.

NPO glolab note : https://note.com/glolab
Concepts
 ・Use adversity as an opportunity for growth
 ・Connect differences in roots and culture to rich learning
 ・Disseminate information from various standpoints and perspectives, and utilize collective knowledge
 ・Provide information that is useful in practice and easy to understand
Contents
 ・Life stories of working adults and university students with immigrant background
 ・Records of entrance examinations and employment experiences by working adults and university students with immigrant background
 ・Information related to higher education and employment for high school students with immigrant background
 ・Career-related study videos for high school students with immigrant background
 ・Practical examples of classes and support for high school students with immigrant background
 ・Other information related to immigrant background
Problem Awareness
High school students with immigrant background are facing the following issues when considering their career paths

・Students themselves face various challenges such as "language barrier", "lack of information about career paths and careers", "money and status of residence"
・Families of students may find it difficult to gather information due to language barriers.
・In high school settings, there are cases where it is difficult to discover the challenges of students with immigrant background, lack of information and time, and difficulty in providing individualized support regarding money and status of residence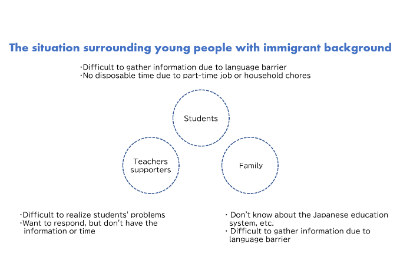 *For more information, please refer to the "Survey on High School Life of Young People with Immigrant Background" conducted by glolab.

 glolab has released "LINE Diagnosis", a tool for students with immigrant background to check their future status of residence and other issues. On the other hand, we have received many comments from teachers and staff members who are actually teaching at high schools and from support groups that it is difficult for teachers and staff members in the field to gather information.

Therefore, we wanted to help reduce the burden on teachers and supporters and improve the effectiveness of their guidance by providing information that can be used to make decisions when providing career guidance and life support to students. We hope that more people, including those in areas where there are few young people with immigrant background, will be able to use this information.

In the future, we would like to consolidate not only glolab's original content, but also information that has already been created and licensed for use.
Call for Information and Article Submissions
 We are looking for information and articles from educational institutions, organizations, companies and individuals who agree with the concept and awareness of glolab. We would be happy to collaborate with you to provide and disseminate better information for teaching and supporting high school students with immigrant background.


*note: A platform (website) for distributing content created by users called creators, such as text, photos, illustrations, music, and video.